1428 Elm Street
was a house in
Springwood
that appeared in
Nightmare on Elm Street
parts
one
two, four and
three
and
Freddy vs. Jason
.
1428 Elm Street was widely known for being the original home to the child murderer and dream-killer Frederick Krueger, also known as Freddy. It was then occupied by the second to defeat him, Nancy Thompson and her family (the first being the parents of the children he murdered). After Nancy's mother was murdered by Freddy, Nancy and her father moved out only to have a soon-to-be possessed by Freddy, Jesse Walsh, move in. After Jesse's demise, the house was abandoned & became deserted for many years until being occupied by Lori Campbell and her family.
Freddy vs Jason
Edit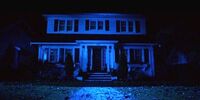 After the events of Freddy's Dead: The Final Nightmare, 1428 Elm Street appears again after its new owner Lori Campbell and her widowed father moved in after being renovated.
Ad blocker interference detected!
Wikia is a free-to-use site that makes money from advertising. We have a modified experience for viewers using ad blockers

Wikia is not accessible if you've made further modifications. Remove the custom ad blocker rule(s) and the page will load as expected.