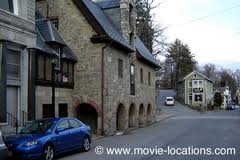 Blairstown, New Jersey is a small town in the US state of New Jersey.
Friday the 13th was filmed there. In the film, Annie Phillips walks through the streets and goes into a diner asking for directions for Camp Crystal Lake and the diner that is there was also used fore the scenes where Steve Christy would hang around at.
In Friday the 13th (2009) Trent Sutton and his friends visit a store which even though in real isnt Blairstown but could be in the series.
Jeff and Sandra Dier enter Blairstown where they get to Camp Crystal Lake.
The town is visited by tourists who are fans of the series and some of the places that was seen in the movie are still in the same spot. Not far from the town is Hope, New Jersey where in the outskirts is the cemetery which is where Enos dropped Annie off.