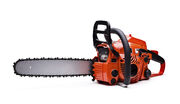 The Chainsaw was a machine used for cutting wood.
It was used by Ginny Field as a weapon against Jason Voorhees. Pam Roberts also used it to defend herself against Roy Burn's attacks.  It was also used by Leatherface from The Texas Chainsaw Massacre Films. The fight with a Chainsaw and a Machete was seen in Part 2, A New Beginning, and the Comic, Jason VS Leatherface.
Appearances
Edit
Ad blocker interference detected!
Wikia is a free-to-use site that makes money from advertising. We have a modified experience for viewers using ad blockers

Wikia is not accessible if you've made further modifications. Remove the custom ad blocker rule(s) and the page will load as expected.