Debi Sue Voorhees (born July 28, 1961) is an American actress. She is best known for her role as Tina in the 1985 movie Friday the 13th: A New Beginning where coincidentally she has the same name as the main antagonist of the film, Jason Voorhees..Voorhees was born July 28, 1961 in Dallas, Texas. Prior to acting she was a Playboy Bunny at the Dallas Playboy Club from 1980 to 1982.It was through this job that she attracted the attention of Playboy magazine.. Voorhees attended the 50th anniversary reunion of the Playboy Club in 2011.From 1982 until 1986 she had several minor roles in movies and television series which included a seven episode role on the show Dallas from 1982 until 1985. After her acting career, Voorhees worked as a literature, English, grammar, and journalism teacher in two high schools in Texas and New Mexico until she was subsequently fired from each school after her participation in Friday the 13th: A New Beginning, particularly her nude scenes, was discovered.She is also a writer and has worked for The Dallas Morning News and others over her fifteen+ year career. She has written a novel, Memoirs Of A Hit Man, and composed a comic memoir titled Diary of a Mad School Teacher.In 2012 Voorhees wrote, directed, and appeared in the independent comedy film Billy Shakespeare, this was Voorhees writing and directorial debut. The film was produced by her production company Voorhees Films.Voorhees has earned a Bachelors degree in Journalism.
Deborah Voorhees has lived a colorful life—journalist, filmmaker, writer, editor, teacher, even a Hollywood B-scream starlet and Playboy Bunny. Currently, Voorhees is working on a dark horror comedy and a sci-fi film.
Voorhees' screenplay Genevieve was an official selection of the Beverly Hills Film Festival. Her short film and music video Hip Hop Hamlet was an official selection of Kenneth Branagh's Shakespeare Film Festival, in Stratford-upon-Avon, England and played in 2016 at the Elsinore Shakespeare Conference in Denmark in celebration of 400 years since Shakespeare's death and is now being included in a German documentary on Hamlet.
Her short film Othello: Good Night My Sweet also unspooled at the Elsinore conference, which was held in Hamlet's castle. Catching Up, a dark comedy she directed from New York playwright Tom Sime, was a hit at 2017 Texas Frightmare and will be released for streaming in Fall 2017. In 2014, Voorhees released her first full-length feature film Billy Shakespeare, which asks, "What if William Shakespeare never existed until now?" Billy, our Modern Bard, is caught in a love triangle of confused sexuality, cross-dressing, mistaken identity, and bedroom trysts. The film won the Bardie Award from The Shakespeare Standard. The quirky, off-beat film has been compared to the indie hit Waiting for Guffman and is now available on Amazon and IndieReign.com. Voorhees wrote, directed and produced the indie film, with her company Voorhees Films (VoorheesFilms.com). 
The film has received many stellar reviews:
"BILLY SHAKESPEARE is a spicy little independent film by Deborah Voorhees that imagines what might happen if William Shakespeare tried to make it as a writer in today's Hollywood rather than Elizabethan England. Quirky characters, compromising situations, and the kind of deadpan humor that fans of Waiting For Guffman will recognize collide with hilarious moments of camp to create a madcap world in which young Billy just can't get a break," writes Ellen Dostal with Broadway World.
"…hilarious campy romp," says film critic Robert Kirchgassner with The Examiner.
"Billy Shakespeare…for any Shakespeare lover should not miss for the world," writes Germana Maciocci, Italian film and theater critic with The Shakespeare Standard.
"No other Billy like it! He's out of the box!" writes Arje Shaw Broadway playwright and creator of The Sonnet Man Hip Hop Shakespeare Fusion
"Jason D. Johnson's interpretation of the title role is a marvel of emotional complexity. The element of comedy is at once rambunctious and bittersweet," writes film critic Michael H. Price
"Definitely a future cult movie like Rocky Horror Picture Show," Sharon Stewart, fan
Voorhees' writing and editing career began in 1990 at the Fort Worth Star-Telegram. As a 16-year veteran journalist (mostly with The Dallas Morning News), she has covered a variety of stories: a mother on death row for killing her abusive husband, a schizophrenic psyche patient at the Austin State Hospital (who's also a nationally known folk artist), the fall of communism through the eyes of a Russian immigrant, a profile on Texas rancher Nan West (she's good with a gun, but never goes into town unless she dons a dress), a horseback adventure through the Badlands of Mexico (she rode illegally across the border for that story), master African-American muralist John Biggers' journey through the white art world. Voorhees continues to edit books and coach screenwriters.
Besides shooting indie films and music videos, Voorhees also shoots live concerts and theatrical and dance stage productions. 
Before directing and writing screenplays, Voorhees worked in Hollywood as an actress for Paramount Pictures horror franchise Friday the 13th, Part V, CBS's nighttime drama Dallas, NBC's detective drama Riptide, the day-time soap Days of Our Lives and many others. 
Voorhees has also taught Acting for Film at Eastern New Mexico University as well as British Literature and journalism in Texas and New Mexico. As a journalist, she has written and edited for The Dallas Morning News, The Fort Worth Star-Telegram, Front Desk magazine, Modern Luxury magazine, and The Shakespeare Standard. Learn more about Voorhees and her company at VoorheesFilms.com.
Debi Sue Voorhees
Edit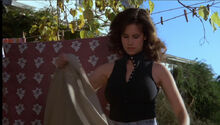 Ad blocker interference detected!
Wikia is a free-to-use site that makes money from advertising. We have a modified experience for viewers using ad blockers

Wikia is not accessible if you've made further modifications. Remove the custom ad blocker rule(s) and the page will load as expected.