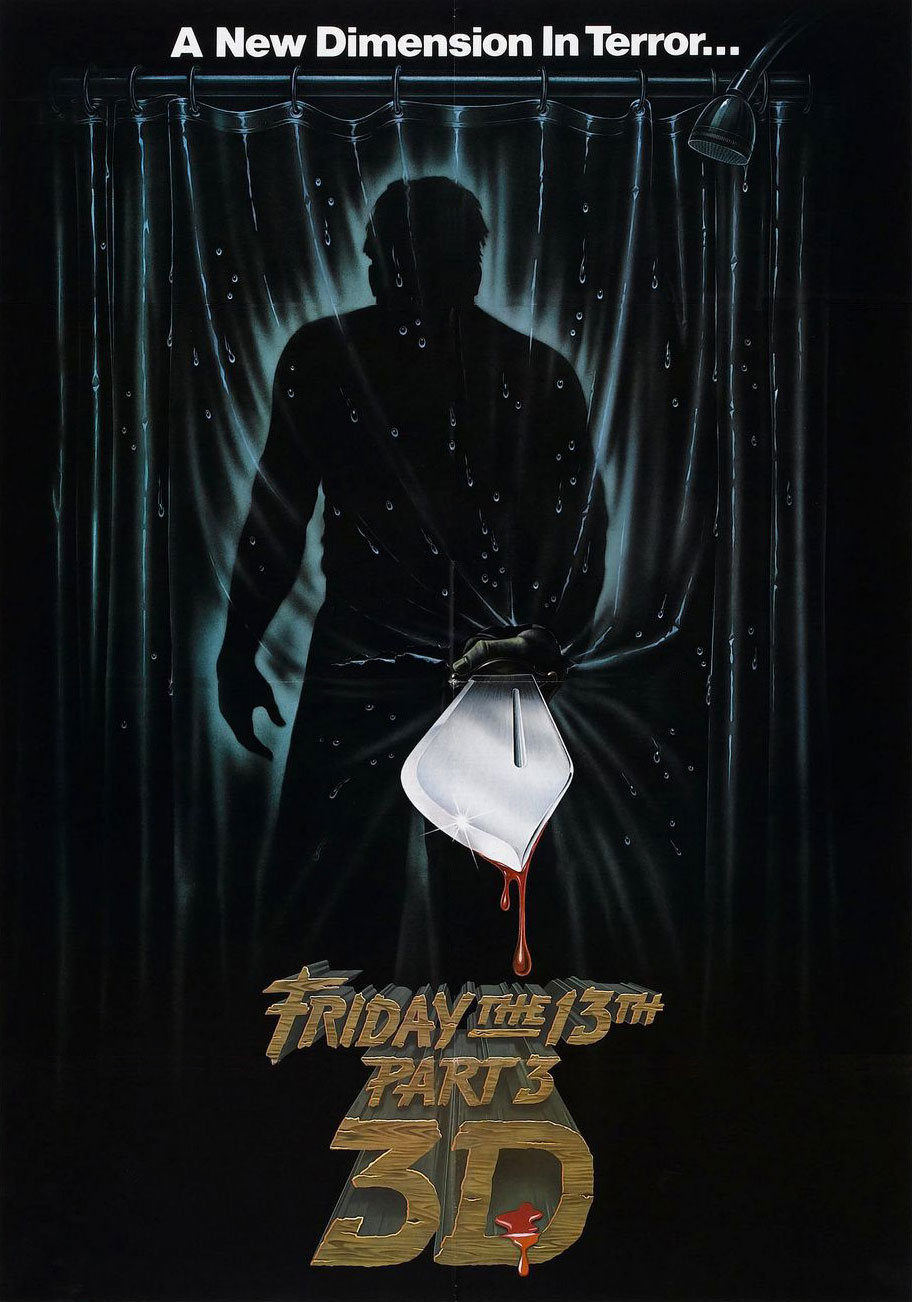 No higher resolution available.
Licensing:
Edit
This file is copyrighted. It will be used in a way that qualifies as fair use under US copyright law.
Friday the 13th Part III 3D (1982)
Ginny (Amy Steel) asks for help in a cabin in the woods but Jason (Warrington Gillete) goes back then she saw the head of Pamela Voorhess so she disiguises herself as Pamela Voorhess making Jason believes that her mother come back to life more in the end he descover´s that his mother´s head is dead then try to kill Ginny then Paul(Jonh Furey) appears and stop at the end Ginny stabs him on the shoulder so she takes out the bag that Jason uses as mask saw some horrible in it.Ginny and Paul walk away plus Jason takes the knife from is shoulder and runs aways.
A Convinience Store in Crystal Lake lives the owner Harold (Steven Susskind) and his wife Edna (Cheri Maugans)  then Jason (Richard Brooker)  steals some clothes so she kills the two.Some months later it´s Friday the 13th plus no June 13.A group of teenagers will spend a weekend at the cottage near Crystal Lake the youngsters are Chris  (Dana Kimmell),Andy (Jeffrey Roger),the pregnant Debbie (Tracie Savage),Shelly (Larry Zerner),Chili (Rachel Howard) ,Vera (Catherine Parks) and  Chuck (David Katims),The young arrives at the house where the Chris´s Boyfriend Rick (Paul Kratka) who made a scare to Chris then the young people are resting from the trip they do not know Jason Voorhees is hiding in the barn so Shelly pretended dead and scared them so Vera takes Shelly to the market roadside there meets the bikers Ali ( Nick Savage ),Fox (Gloria Charles) and Loco ( Kevin ´O Brien) in the car Shelly taught a lesson in these bikers.
Back at Home Rick gets starts nervous with the broken glasses of his car so Chris decides to go with him,then the bikers came back to take revenge so Fox and Loco enter the barn more are killed by Jason,Ali very angry try to kill Jason more Ali goes uncounscious.that the night falls on a Friday the 13th the young Chris and Rick are talking in the woods so Chris tells Rick some time he was attacked by manic he had a completely deformed face so Chris faints with fear,the car breaks they back home then Shelly scares Vera talks to him more Shelly goes to the barn more is dead by Jason then the maniac Jason uses a mask of hockey then kills Vera with a harpoon then Jason goes to the house to kill young people he killed Andy cutting in the halfl after Debbie with her knife sticking out of her neck,then the Chilli and Chuck smokers are in the kitchen making popcorn plus there was light blackout so Chuck went down to the basement plus Jason was there and kils him playing fuse box,Chili discovers that Shelly died then screams more Jason kills her with a burning poker.
On Returning home Chris and Rick find it all a mess up towels soaked with blood so Rick will look at the fuses plus Jason kills him so Chris goes to the barns to but finds the Loco´s Body in a tree she goes home to lock Rick´s body then is thrown out the window arises Jason she runs off and droops a bookshelf she rides more Jason finds her runs to the barn she hid in the top Jason was looking so she falls on him Jason picks up the machete then Chris arm up with a shovel and the break in the head so Chris tied a rope around Jason´s neck and hanged it but it did not help because she discovers that Jason is the man who attacked her in the woods suddenly Ali appears more is dead by Jason Chris picks up Axe kills Jason with a axe in head.
After Killing Jason Chris takes a boat  slept in the boat so she wakes up in the streak of day so she saw Jason appears her without hokey mask with face deformed then she looks Jason disapperead then appears Pamela Voorhess with her head turned back and pulls Chris in the lake,the cops took Chris to the hospital is very traumatized in the barn Jason is unconscious but not for long.
Dana Kimmell - Chris
Richard Brooke - Jason Voorhess
Paul Kratka - Rick
Catherina Parks - Vera
Rachel Howard - Chili
Larry Zerner - Shelly
Kevin ´O Brien - Loco
Gloria Charles - Fox
Nick Savage - Ali
Tracie Savage - Debbie
David Katims - Chuck
Jeffrey Rogers - Andy
Steven Susskind - Harold
Cheri Maugans - Edna
Appears on these pages

of
Friday the 13th Part III, also known as Friday the 13th Part 3 and marketed as Friday the 13th...

Friday the 13th Part 1 Friday the 13th Part 2
File history
Click on a date/time to view the file as it appeared at that time.
Metadata