Admiral Robertson was a character in Friday the 13th Part VIII: Jason Takes Manhattan.
He is Jason Voorhees' 75th victim.
Biography
Edit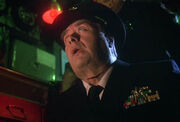 Robertson is the father of Sean Robertson and a former officer in the United States Navy. He put Jim Carlson in charge of running the boat until he comes back, but when he did, Jim was killed by Jason Voorhees in cold blood. While shocked of his death, Jason came behind Robertson and slit him by the throat, killing him. Jason later hangs his corpse up in the ceiling of the control room. His corpse along with the corpses of a boxer, Jim Carlson, Wayne Webber, a crew member he didn't mean to kill, Eva Watanbe, Tamara Mason, Miles Wolfe, the deck hand, and J.J. Jarret will forever be on the S.S. Lazarus at the bottom of the Atlantic Ocean.  
Appearance
Edit
Robertson wears the service dress blue uniform of an admiral, with Surface Warfare Officer Insignia, but his medals are surprisingly undistinguished for a SWO of his rank: His awards consist of the Joint Service Commendation Medal, Navy Commendation Medal, Navy Achievement Medal, Navy Unit Commendation, Navy "E" Ribbon, National Defense Service Medal, Armed Forces Expeditionary Medal, Vietnam Service Medal, Humanitarian Service Medal, Sea Service Deployment Ribbon, and Republic of Vietnam Campaign Medal. These decorations strongly suggest that his career has chiefly consisted of being present, without any conspicuously meritorious service in command or administration. The Vietnam medals mean that he cannot have entered the navy any later than 1975, while the lack of a second star on his National Defense Service Medal means that he entered no earlier than 1954 and left no later than 1990.  
Appearances
Edit