Ryan was a female police officer in Crystal Lake. During the events of Jason Goes to Hell: The Final Friday, she was killed by Jason Voorhees in the body of Robert Campbell. She is the first and only female cop that Jason kills. Ryan was played by Madelon Curtis.
Ryan was at the Crystal Lake police station when Jessica Kimble arrived to report Steven Freeman for running down and seemingly killing her boyfriend Robert Campbell. Unknown to Jessica, Robert had been possessed by her uncle, Jason Voorhees, and had followed her to the police station.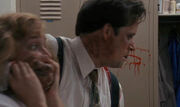 While Ryan was trying to comfort Jessica, Robert/Jason stormed into the station, searching for her. When he found her, he grabbed Jessica, so Ryan tried to restrain him. Robert/Jason responded by grabbing Ryan and slamming her head against the nearby locker, killing her.
She is Jason's 100th victim.